Pennsylvania Commercial Energy Auditors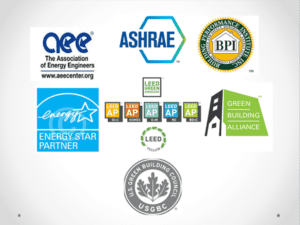 A well-conducted commercial energy audit will determine the most effective means of reducing energy use at your business. It is a comprehensive inspection of all building systems, how they perform independently and how they interact with each other. How, when, and where energy is used as well as a breakdown of current electric costs will be used to determine potential energy-saving modifications.
In order to receive the best service, it is important to choose an energy auditor who is qualified/certified to perform ASHRAE Level I, II, and III energy audits. While many companies offer energy audits as one of their services, there are just as many companies that will offer these services without possessing adequate expertise in energy efficiency.
We understand that it can be difficult to choose the best company that is suitable for your needs. While we hope you choose EMS Environmental to help you reduce energy expense, we also want to give you the knowledge to make an informed decision. Here are a few things you should avoid when choosing an energy auditor—as well as a few things to look for in an energy auditor, and a list of the best energy auditors in Pennsylvania that provide energy auditing services.
Who you should avoid:
There are some companies that offer free walkthroughs of your facility. While an ASHRAE Level I audit is more or less a walkthrough, it is important to be aware of the suggestions the auditor makes. Is s/he speaking mainly of lighting upgrades? HVAC equipment upgrades? Often times companies offer inspections called 'energy audits' when attempting to sell new lighting or HVAC systems. These are not energy audits. They are partial inspections used to generate data with an intended result. That result will generally steer you to buy their product rather than trying to reduce your energy costs through upgrades. It should also be noted that ASHRAE Level I audits are not free.
Be sure to ask questions about the suggestions being made. If they claim upgrades are necessary simply because the equipment is old (or any other vague reason), dig a little deeper to find out why the old equipment is inefficient. There are often underlying issues that lead to wasted energy, and if the auditor cannot identify these problems, it's likely they are not qualified to be performing energy audits.
Typically, home energy auditors do not have the skill set appropriate for commercial energy auditing.  While some of the same principles are at work, commercial energy use is different, more varied and involves many more disciplines, from the systems in use to the cost structures and solutions.
Who you should look for:
An Engineering Professional is the ideal qualification. Just recently, there has been an increase in the number of universities offering Energy Engineering as a major with most of the course content derived from Mechanical Engineering. This provides significant training in building systems, power generation, and air and water distribution. An Energy Engineer or Mechanical Engineer has the most expertise to apply to the many systems and operations of your business. Other Engineering disciplines, such as Civil, Environmental, Electrical, and Chemical can also provide a basis for an auditor's skills, but they should be accompanied by certifications to ensure they have additional training in areas they typically have not encountered in their education.
There are also many certification programs available for a professional to earn in order to ensure expertise in varying realms of energy efficiency. A few of the most well-known certifications are:
American Society of Heating, Refrigeration, and Air-Conditioning Engineers (ASHRAE)
ASHRAE certification programs were founded to establish and reinforce a reputation for leadership and expertise in HVAC&R design. ASHRAE offers four certification courses that allow the professional—upon certification—to compete for contracts calling for these services:
Building Commissioning Professional (BCxP)
Building Energy Assessment Professional (BEAP)
Building Energy Modeling Professional (BEMP)
High-Performance Building Design Professional (HBDP)
The ASHRAE BCxP and BEAP programs meet the Better Buildings Workforce Guidelines set forth by the U.S. Department of Energy. Choosing an energy auditor with one of these certifications will ensure s/he possesses specialized knowledge of local, state, and Federal requirements as they apply to energy-efficient upgrades.
Association of Energy Engineers (AEE)
Founded in 1977, the Association of Energy Engineers offers many information outreach programs, conferences, journals, books, and certification programs. A few of the energy-focused certification programs include:
Certified Energy Manager (CEM)
Certified Energy Auditor (CEA)
Certified Building Commissioning Professional (CBCP)
Certified Business Energy Professional (BEP)
Certified Energy Procurement Professional (CEP)
…along with many others. By choosing a professional who holds one or more of these certifications from AEE, you are employing the services of someone who can optimize the energy performance of a building, facility, or industrial plant. They will analyze the optimal solutions to reduce energy consumption in a cost-effective approach by implementing their organizations' energy management strategies combined with their clients' goals.
Building Performance Institute (BPI)
A professional who has earned a BPI Building Analyst certification has demonstrated competency by passing a written exam and a field exam using energy audit processes and equipment. Once the exams are passed, the newly-certified BPI Building Analyst is able to conduct air infiltration and combustion testing, which is extremely useful where gas or oil heating is used.  Air infiltration expertise can be obtained through other certifications and project experience, but BPI provides this training with required lab work, making it one of the best suited for this expertise. Air infiltration is one of the leading impediments to energy performance and can also contribute to health conditions in buildings and premature failure of building structures. While the BPI certification is primarily directed to residential structures, the expertise obtained through this certification is useful for the commercial auditor.
Leadership in Energy and Environmental Design Accredited Professional (LEED AP)
While not directly applicable to commercial energy auditing, the LEED AP credential signifies up-to-date knowledge of current green building principles and how energy efficiency fits into green building design. A LEED AP professional can be particularly useful where LEED building certification is of interest or to address business concerns that extend to indoor air quality, healthy building materials, and employee health and well being. There are two additional LEED credentials that can also be useful in addition to the LEED AP certification:
Building Design and Construction (LEED AP BD&C)
Operations and Maintenance (LEED AP O&M)
While much less rigorously tested as LEED AP, LEED Associates also have training in green building practices that can serve as helpful background for an energy auditor.
Organizational Affiliations
It is also helpful to look for organizations with which the company is affiliated. There are several organizations that encourage energy efficiency, green building design and sustainable operations. Association with any of the following organizations suggests the auditor (and his/her company) is committed to energy-efficient practices and continuing knowledge.
ENERGY STAR Partner
Companies who are ENERGY STAR Partners are committed to measuring, tracking, and benchmarking energy performance. They are able to develop and implement plans to improve energy performance using the ENERGY STAR strategy. ENERGY STAR partners provide energy efficiency services that support customer efforts to reduce energy consumption and continuously improve business practices. An ENERGY STAR Partner is familiar with the requirements for obtaining ENERGY STAR Certification and can advise as to the probability of and efforts required for obtaining this certification.
U.S. Green Building Council Member (USGBC)
The mission for USGBC members is aimed at promoting sustainability in the building and construction industry. Members of USGBC consistently look for ways to design, transform, and operate building with the goal of making a structure better for the environment and healthier for individuals to live, work, and play.
Green Building Alliance (GBA)
As a member of the Green Building Alliance—the first affiliate of the USGBC—the goal is to inspire healthy, high-performing workplaces and homes throughout Pennsylvania. Creating and transforming buildings into spaces that are "environmentally responsible, socially just, and economically viable" is the mission of GBA members.
Best Energy Auditors in Pennsylvania
Now that we've explained the importance of choosing a company or auditor with certifications and affiliations, please take a look at some of the most qualified companies in and around Pennsylvania:
3R Sustainability
Location: Pittsburgh
Founded: 2007
Affiliations: U.S. Green Building Council, Green Building Alliance, American Institute of Architects; each team member is LEED Certified
3R Sustainability claims to provide commercial energy audits, but their expertise lies more in energy modeling. While almost entirely focused on LEED new building projects, they conduct energy audits in commercial facilities, sports facilities, medical centers, and educational facilities.
Commonwealth Energy Group, LLC
Location: Dunmore
Founded: 2008
Affiliations: None listed
Commonwealth Energy Group performs lighting and other retrofits and will conduct energy audits by assessing each process of a business that consumes energy with the goal of upgrading the equipment to save energy and money. They search for small improvements that will result in more efficient energy consumption while accounting for the type, size, construction, and systems of the building.
Conservation Consultants, Inc.
Location: Pittsburgh
Founded: 1978
Affiliations: BPI, ENERGY STAR, LEED
Conservation Consultants primarily provides residential energy audits.
Energy Independent Solutions
Location: Pittsburgh
Founded: 1977
Affiliations: ENERGY STAR; works with BPI-certified Building Analysts and Building Envelope Specialists
Commercial energy audits from EIS Solar include ENERGY STAR benchmarking and recognition, grant, loan, and tax credit identifications, and a breakdown of all areas of the operation that may benefit from energy-efficient upgrades.
Richards Energy Group
Location: Manheim
Founded: 1995
Affiliations: AEE
REG performs facility energy audits to help companies prioritize cost saving improvements. They offer walk through analyses, professional energy reports, and identification of alternative technologies for energy and cost efficiencies.
Having an energy audit performed by one of the businesses listed above will provide you with the analysis, financial impact, and other information useful to both short- and long-term planning to address any and all of the energy issues at your business.
While you may choose any of the other businesses listed in this article, EMS will consider more than just your buildings. We acknowledge the ways in which your business uses energy in its business processes as well as the ways in which your business adapts and grows. Your energy audit integrates your business and buildings into a common energy picture focused on solutions for your business, not just how to condition and light a better building shell.
EMS has conducted hundreds of energy audits of commercial and industrial businesses. Every audit determined annual savings that exceeded the cost of the energy audit, typically more than twice the one-time cost. A commercial energy audit performed by EMS Environmental, Inc. addresses those concerns with our guarantee that we will determine savings at least equal to the cost of the energy audit—or it's free. Please contact us here to discuss an energy audit with EMS, or check out our other articles for more information!
How Much Money Can My Business Save with Energy Efficiency?