New York Underground Storage Tank Contractors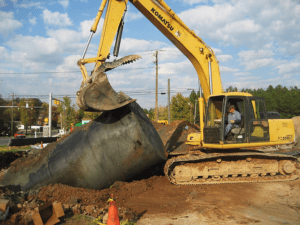 Do you need to remove an underground storage tank (UST)?  Do you need help dealing with a leaking UST (LUST)? If so, you are going to want to research different environmental consulting firms to find the one that best fits your company's unique and important needs. While our services help clients with all types of environmental issues, including USTs, we understand you may still want to consider all of your options before selecting a UST contractor.
It is common for companies to ask us this question: "If we do not use EMS Environmental, who would you recommend?" So, we've compiled a list of the eight best UST contractors in New York. At EMS, we do not shy away from daunting questions because we want to maintain an honest and open philosophy when it comes to interacting with our current and future clients.
It is important to employ the help of environmental professionals who possess the knowledge and expertise of ever-changing state and Federal environmental regulations. Searching for the right UST contractor to effectively and efficiently meet your objectives may seem tedious, but it is also an important step to ensure you and your property are protected in the event of environmental contamination. We understand that there are many UST contractors in your area, and some may be more suitable for your situation than others.
In this article, we will briefly discuss the qualifications that a UST contractor should possess and will provide you with a list of the best UST contractors in New York.
What Qualifications Should a UST Contractor Possess?
EMS recommends the following qualifications for UST contractors:
Tank Removal Certifications
Professional Geologist/Professional Engineer license
Experience with similar properties
Experience with the material stored in the UST
Remediation experience
Insurance Coverage
Responsiveness and reputation for closing UST projects
Tank Removal Certifications
In New York, environmental professionals are not required to have any specific certifications related to UST activities. However, EMS recommends that at a minimum all workers have completed 40 Hour OSHA HAZWOPER Training and are current on the annual 8-Hour Refresher courses. All EMS employees comply with the corporate Health and Safety Program developed in accordance with Title 29 of the Code of Federal Regulations, Part 1910.120 (29 CFR 1910.120). Subcontractors, visitors, regulatory agency personnel, site owners, and their representatives must also comply with site-specific safety requirements.
Professional Geologist/Professional Engineer License
Some New York State Department of Environmental Conservation (NYSDEC) Regions require Remedial Action Plans that propose active remediation systems to be signed by Professional Engineers. It is not clear yet if Professional Geologists will also be able to sign Remedial Action Plans now that New York is issuing Professional Geologist licenses.
Experience with similar properties
In many cases, the layout and size of a commercial operation cannot easily accommodate intrusive environmental investigation and remediation activities. It is important that your consultant keeps this in mind when planning their scope of work and is experienced with coordinating between you and the various subcontractors that may be necessary to accomplish the project goals.
Experience with the type of material contained in the tank
A UST contractor needs to be knowledgeable of the regulations and the requirements for your specific case. The regulations can be extremely nuanced and what is required of your project will come down to what type of material is stored in your tanks. Don't hire a contractor that has only worked with petroleum USTs if you are removing a chemical storage tank (i.e. solvents, dry cleaning fluids, degreasers, waste oil).
There are different sampling and analytical requirements for chemicals with different physical properties (density, vapor pressure, and solubility, molecular weight). For instance, soil samples collected to support the closure of a tank containing gasoline require the analysis of certain compounds. However, those same samples collected for the closure of a diesel fuel-containing tank would require all but one of those same compounds.  It is essential your contractor is aware of these differences so you can capture exactly the data that is necessary to progress your case.
Remediation experience
There are many factors that complicate an environmental cleanup: substance released, site geology, nearby sensitive receptors, and current and intended future use of the property, just to name a few. A contractor needs to be able to take all of these factors into consideration and develop a plan to remediate the property that is effective, cost efficient, and fits with the overall goals of the client. Remediation can vary from simply monitoring the site conditions as natural processes attenuate the release to installing and operating a large scale recovery and treatment system, with a lot in between.
Avoid contractors that only assess and recommend. Save time and money by employing a consultant with hands-on field capabilities and equipment.
Insurance Coverage
Carrying various types of liability insurance protects the UST owner against damages to persons and entities not related to the client during the course of UST investigative and cleanup activities. EMS recommends employing the services of a UST contractor who carries the following insurance:
Worker's Compensation
Worker's compensation protects the UST contractor's employees should they be injured while working on their client's project.
Commercial Automobile Insurance
This insurance provides coverage in the event that the contractor's vehicle damages persons or property while on site.
General/Professional/Pollution Liability Insurance
These liability insurances protect the client should that contractor's negligence result in bodily injury or property damage as well as claims arising out of a professional error or a pollution situation.
Umbrella Liability
Umbrella Liability insurance helps to protect the client should a catastrophic situation arise where damages exceed the limits of the contractor's primary insurance policies.
If a contractor cannot provide proof of one or more of these coverages, it may be time to consider a different contractor who can.
Responsiveness and reputation for closing UST projects
Choose a contractor that can demonstrate they move projects to closure. It is not uncommon for some UST cleanups to last many years. Others can sometimes be perpetuated by a questionable contractor because once the project is over, that source of income goes away. A good UST contractor will have a reputation for closing projects by effectively navigating the regulations. These types of contractors know that this reputation will result in repeat work.
The Seven Best UST Contractors in New York
Allied Environmental
Founded: 1987
NY Location: West Seneca
Professionals at Allied Environmental provide permitting, excavation equipment, product removal and disposal, and environmental sampling. They also provide services such as post-closure assessments, development of Remedial Action Plans, and soil and groundwater sampling.
Athenica Environmental Engineering Service, Inc.
Founded: 1987
NY Location: Long Island City
Athenica offers a wide range of services to their clients, including oversight of tank tightness tests, registration of active and inactive systems, soil and groundwater testing, soil excavation, and closure of inactive UST systems in accordance with environmental regulations.
Clear View Environmental Services
NY Location: Holtsville
Clear View conducts electronic locating services, soil testing, closure reports, and tank removals, abandonments, and installations.
CORE Environmental Consultants, Inc.
Founded: 2004
NY Locations: Buffalo, College Point
CORE creates plans and specifications for upgrades or replacements of existing tanks or installation of new tanks. They also perform system closures and pre-removal soil sampling and analysis.
C2G Environmental Consultants
NY Locations: Farmingdale, Hawthorne, New Paltz
C2G consultants conduct tank installations, abandonments, removals, soil cleanups and disposal, soil sampling, tank cleaning, and waste disposal.
PT Consultants, Inc.
NY Location: New York City
Services with PT Consultants include tank removals, soil and groundwater remediation design, and soil and waste disposal.
Walden Associates
Founded: 1995
Locations: East Moriches, Oyster Bay
Walden Associates provide storage and chemical bulk storage design, tank installation and testing, compliance and monitoring, design and permitting, removal, waste oil management, and cost estimations.
Selecting a UST Contractor
Now that you've gained some basic knowledge of the best UST contractors in New York, consider the services your business needs to ensure you are making the decision that makes the most financial sense for your situation. Remember to consider these factors while making your decision:
Certifications, licenses, and insurance coverage held by the contractor
Remediation experience with similar properties and tank materials
Responsiveness and reputation for UST project closure
If you have questions or if you need help to formulate the most beneficial resolution for your situation, our professional geologists, engineers, technicians, and scientists are ready to help.
If you would like to learn more about how EMS can help you with your UST needs, please reach out to us.
For more information about underground storage tanks, check out these articles!
How Much Will a Leaking Underground Storage Tank Cleanup Cost?
The 10 Most Common Ways Underground Storage Tank Leaks are Discovered
The 11 Steps to Take After an Underground Storage Tank Release is Detected