What happens after a UST release is detected?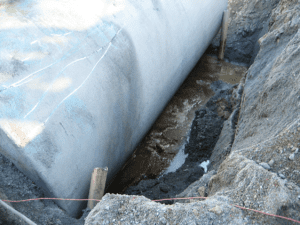 Do you have underground storage tanks (USTs) on your property but are unsure of what to do in the event of a product release? Are you worried that even though you have the required release detection equipment, you may still fail to be in compliance with environmental regulations? If you have a leak, do you know the required reporting and investigation procedures? Many tank owners share these concerns! Environmental regulations related to underground storage tank (UST) maintenance and appropriate cleanup processes can be confusing and complicated, and they vary slightly between each state. To ensure you are aware of the proper cleanup protocol, we have laid out eleven important steps to take after an underground storage tank release is detected.
Why is it important to address potential UST leaks as quickly as possible?
The release of product from a UST can contaminate surrounding soil, groundwater or surface waters, and even indoor air spaces. Immediately determining the source of the release and the type of product released may prevent extensive contamination of nearby receptors. The earlier a leak is addressed, the less potential there is for regulatory and third-party liability expense.
There are many warning signs that can provide indication of a product release from a UST. Being aware of the most common ways underground storage tank leaks are discovered will allow you to closely monitor the areas that most commonly indicate a release has occurred and take immediate action if one is confirmed.
Underground Storage Tank Release Investigation Process
1.      If leak detection equipment is in place, it should have shut down the faulty equipment.
Secondary containment with interstitial monitoring, automatic tank gauging (ATG) systems, manual tank gauging, statistical inventory reconciliation (SIR), groundwater monitoring, and vapor monitoring are a few effective methods that may be used for leak detection.

Secondary containment provides a barrier between the tank and the environment and directs the flow of the leaked product towards the interstitial monitor. Interstitial monitoring can detect changes in pressure/vacuum, or it can recognize the presence of liquid.
The ATG system automatically monitors product level, inventory control, and temperature to detect changes in product volume that may indicate a release.
Manual tank gauging involves leaving the tank undisturbed for a minimum of 36 hours per week. Tank contents are measured twice at the beginning and twice at the end of this test period. Ending measurements are deducted from beginning measurements to indicate changes in product volume.
The SIR method involves a statistical analysis of inventory, delivery, and dispensing data performed by a trained professional using special computer software. Data acquired through the SIR method are processed periodically to detect fluctuations in product volume.
Groundwater monitors involve monitoring wells placed near the UST. Any product floating around on the surface of the water will indicate a release. These checks are performed at least once a month.
Vapor monitoring can detect product vapors in the soil gas surrounding the tank (passive monitoring), or the presence of a tracer compound in the UST system (active monitoring). These monitors can be either manual or automated; however, manually-operated systems gather results that are less accurate than results from automated systems.
2.      If leak detection equipment is not in place or it failed to shut down the faulty component, either the component must be immediately isolated or the entire UST system should be shut down.
Leak detection may fail because of faulty installation, age, or corrosion—especially if the component is made of metal.
3.      Local emergency personnel should be contacted if necessary.
The first entity that should be contacted is the fire department. If traffic control is needed, contact the police department next. EMS Environmental and our subcontractors are considered emergency response, and may be contacted if necessary.
4.      Identify and mitigate any fire, explosion, or safety hazards posed by free product or associated vapors.
Any product should be treated as a hazardous material. One of the most common products EMS encounters is petroleum. Petroleum has the potential to become extremely dangerous, and should be treated as such.
5.      Recover any free product to minimize potential impact to the environment.
In an emergency response situation, a frequently-used method for addressing a spill is a vacuum truck. A hose is run from a tank on the back of the truck into the well, excavation, or utility to vacuum out any product that is present. In some instances, this method can be used to keep vapors down if the product entered a utility.
6.      Contact the governing regulatory agency to report the release
It is important to note that time frames vary based upon the substance released and which agency has jurisdiction. For example, for a gasoline leak in Pennsylvania, the Pennsylvania Department of Environmental Protection (PADEP) must be verbally notified of the release within 24 hours of confirmation. Within 15 days, a written form—on which the local municipality must be copied—must be submitted. In other states the notification must be made within two hours.
If the release is to a navigable waterway, Federal environmental agencies may have to be notified.
7.      Repair or replace the faulty component
An installer who is licensed or certified with the state in which the release occurred should perform the repair or replacement of defective or damaged equipment.
8.      Conduct tightness testing to confirm integrity of UST system
Volumetric and non-volumetric methods can be used for tank tightness testing.

Volumetric tests operate by applying slight pressure to the tank and carefully measuring for any change in volume over time. Depending upon the method, volumetric tests may require either a partially-full tank or an overfilled tank. Volume is dependent upon the temperature of the product, so temperature readings must be taken continuously. Another volumetric method measures the mass of the product to detect any fluctuations in volume.
Non-volumetric tests do not measure volume. One method puts a slight vacuum on the tank and then uses acoustic sensors to listen for the sound of water bubbling into the tank. Another method places a chemical marker into the product in the tank and checks for its presence outside the tank. If the tank is leaking, the chemical marker—a volatile liquid—will be detected outside the tank.
9.      Submit results of tightness testing to the regulatory agency
Ensure adherence to proper time frames in your state
10. Conduct an Environmental Site Assessment
If the product release impacted soil and/or groundwater, an environmental site assessment must be performed.

Assessment requirements are state-specific. Many states require certain qualifications and certifications of environmental professionals who conduct the assessments.
To determine if the release affected soil or groundwater, samples need to be taken of these media. The minimum assessment necessary would be a soil investigation, as soil is typically impacted first. If soil is affected, groundwater quality will also have to be investigated. If the impact occurred near a building, indoor air quality may also need to be tested.
11. Contact insurance company or state-run tank fund to make a claim
If participating in a state-run tank fund program, contact the appropriate entity to make a claim. Requirements vary between funds, so be sure to follow the appropriate guidelines. Otherwise, contact the appropriate insurance company.
A small leak has the potential to become catastrophic if appropriate remediation steps are not taken. Now that you know the steps to take after an underground storage tank release is detected, you can save yourself and your facility (and your budget) from future liabilities related to the release. Please feel free to contact EMS with further questions.