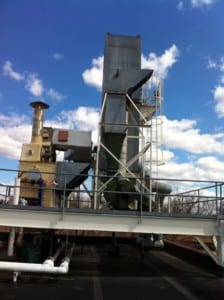 Have you ever lost an employee whose job was to submit your air permits? Are you worried about a penalty—and negative publicity—for environmental permit violations? Do you worry about the unscheduled communication, site visit, or feared letter from the Environmental Protection Agency?
There are a few ways you can address these environmental compliance issues:
Hire a full-time staff member to keep your business in compliance
Assign environmental compliance responsibilities to an internal employee who has other priorities…and may lack the training and certification to perform environmental tasks
Outsource the services to a certified and experienced environmental firm
Staying ahead of environmental regulations is a full-time job. If your company's expertise ends where environmental issues begin, environmental outsourcing may be the best option for your company to save time and money. Ever-changing state and Federal environmental regulations increasingly place more stress on personnel while overloading the internal resources at a business. In this growing compliance and auditing world, understanding the local and regional regulatory framework is vital, particularly for meeting permitting and safety requirements.
Many industrial or commercial entities have environmental departments that are under headcount or financial obligation restrictions, thus challenged to accomplish typical day-to-day activities. In fact, many industrial and commercial businesses do not have any environmental programs at all. Outsourcing environmental consulting services allows companies to pay for only what they need, only when they need it.
In this article, we will explain the roles of an environmental outsourcing company, the tasks environmental consultants commonly complete and the benefits of choosing to outsource environmental services.
What is the Role of an Environmental Outsourcing Company?
An outsourcing company allows a business to focus on what it does best–managing the operations that are vital to their success. An environmental outsourcing staff is hired to support or substitute the personnel in order to avoid a decline in productivity for the business. The consultant will assess compliance issues and devise a compliance system to most efficiently meet the regulatory objectives needed per your company's due diligence and permitting needs.
As a typical first step, the environmental consultant will conduct an audit or apply a strategic planning tool known as a gap analysis to determine specific environmental regulatory requirements and/or identify areas that are not in compliance. The audit involves a thorough review of the operations and manufacturing processes at the facility and assesses its compliance with applicable local, state, and Federal environmental laws and regulations as well as permit terms and conditions. Results of the audit identify which compliance tasks, permits, and reports need to be completed and the most efficient and timely manner to achieve the objectives.
Typical Environmental Compliance Tasks that are Outsourced
Environmental needs that are identified during the initial audit or gap analysis of the facility and its operations are a provision for the implementation of the following tasks:
Air, soil, solid waste, and wastewater sampling
Interaction with laboratories to assure proper quality assurance methodologies are followed
Completion/Filing of environmental reporting and inventory amendments
Compliance with discharge monitoring services
Development of custom software applications for managing environmental compliance information that is specific to your business
Employee training, certification, and oversight
Environmental Site Assessments and company-wide sustainability improvement
Air emission calculations and permit submittals
Hazardous materials management
Maintenance of treatment systems and waste streams
Reporting to state agencies (EPA, LEPC) for hazardous chemicals
Solid and liquid waste management
Wastewater treatment
Benefits of Environmental Outsourcing
When a company decides to outsource environmental due diligence and compliance resource service requirements to qualified environmental professionals, they allow their company to re-focus on their core competencies while efficiently reaching compliance goals. With environmental outsourcing, a company is able to:
Achieve improved and efficient compliance and monitoring goals
Avoid costly training curves and supervision by eliminating the need for new-hires
Enhance public and business-to-business image through process improvements and integration of environmental issues with business priorities and market drivers
Hire professional services on an as-needed basis
Reach rapid and cost-effective solutions with a consultant who invests time in understanding the business and has a stable pool or resources to meet clients' needs
Reduce risk of noncompliance through use of proprietary software, established relationships with regulatory agencies, and current knowledge of regulations
Save time and money
Support overextended staff to ensure profitability of company is not lost to diversion of key personnel from the mission of the company
The EMS outsourcing team is able to effectively manage compliance with its staff that is closely matched to the expertise required for each specific task. Outsourcing programs allow the consultant and the client to expand communications, increase efficiency, and ensure the deliverables are completed in a timely fashion and that the submittal requirements and compliance assurance is accomplished.
Many businesses can benefit by using environmental outsourcing companies as a method of focusing on their core business, eliminating costly training curves, and achieving more efficient and improved compliance and monitoring goals.
The overall objective of EMS is to work together with our clients to achieve a mutually beneficial, long-term partnership built on the continuous improvement of our environmental services and compliance standards.