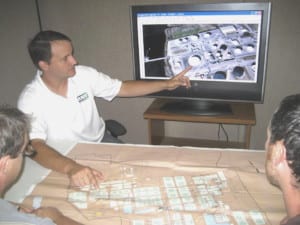 Here at EMS Environmental, we get asked the following question all the time:
"If all providers of Phase I Environmental Site Assessment reports follow the same ASTM standards, why is there such a wide range of costs for those services?"
It is certainly understandable that no one wants to pay more for a Phase I ESA than they have to, but all reports are not created equal. In this article you will learn:
the minimum, must-have qualifications of a Phase I ESA Provider that will comply with the Environmental Protection Agency's (EPA) All Appropriate Inquiry (AAI) requirements for innocent landowner defense
and the "should-have" qualifications to meet the needs of both buyers and lenders.
Background of the All Appropriate Inquiry Rule
In 1980, Congress passed the Comprehensive Environmental Response, Compensation, and Liability Act – otherwise known as CERCLA or Superfund. Through CERCLA, the EPA was given power to seek out those parties responsible for any release of contaminants and assure their "cooperation" in the cleanup. The courts have applied a strict liability standard under CERCLA. Liability is imposed regardless of fault and can be imposed retroactively (i.e., before CERCLA was enacted). The liability is also joint and several, meaning that liability for contaminants can be imposed regardless of relative contribution, including merely purchasing a property.
The 1986 Superfund Amendments to CERCLA contained an "innocent landowner" defense provision.  The innocent landowner provision provided a defense for those persons who could demonstrate that they had no reason to know, prior to purchasing a property, that any hazardous substance was released or disposed of at the property. Purchasers had to demonstrate that they had undertaken "all appropriate inquiries" into the previous ownership and uses of the property consistent with good commercial or customary standards and practices.
The 2002 Brownfields Amendments to CERCLA added specific criteria for conducting "all appropriate inquiry." The EPA issued the Final Rule Standards and Practices for All Appropriate Inquiries on November 1, 2005, with an effective date of November 1, 2006. The AAI Rule provides an escape from liability called the "innocent landowner defense," but this defense can only be used to escape liability if "appropriate due diligence" was conducted prior to the acquisition of the property. CERCLA allows that "appropriate due diligence" has been exercised only if a thorough investigation of the site's current and former uses has been conducted. This investigation is known as an environmental site assessment (ESA).
Minimum Qualifications of a Phase I ESA Provider
As part of the AAI criteria, EPA established minimum qualification standards for Environmental Professionals who prepare Phase I ESAs.
An Environmental Professional is defined as a person who possesses sufficient specific education, training, and experience necessary to exercise professional judgment to develop opinions and conclusions regarding the presence of releases or threatened releases to the surface or subsurface of a property. The definition includes persons who:
hold a Professional Engineer's or Professional Geologist's license or registration and have three years of full-time relevant experience.
are licensed or certified by a state, tribe, or the Federal government to perform All Appropriate Inquiries and have three years of full-time relevant experience.
have a Baccalaureate degree or higher from an accredited institution of higher education in a relevant discipline of engineering, environmental science, or earth science and five years of full-time relevant experience.
have 10 or more years of full-time relevant experience.
Minimum Qualifications a Phase I ESA Provider Should Have
With the Brownfields Amendments, the All Appropriate Inquiry Rule became a means to protect against the risk of potential future discovery of contaminants. In other words, if an appropriate AAI is conducted (ASTM Phase I ESA) and the investigation does not reveal evidence of prior contamination, the new property owner can access the innocent landowner provision of the AAI rule. However, if the AAI process was done incorrectly, the buyer would not be eligible for the "innocent landowner defense" and therefore could be held liable for pre-existing contamination.
If contamination is discovered during the AAI process, the buyer, or seller, will have to report and possibly remediate the property should the sale go through. In some cases, the discovery of contamination causes the deal to fall through and sometimes presents opportunities for the buyer.
Based upon the importance of strictly complying with the AAI process and also upon the importance of providing appropriate due diligence for prospective buyers and their lenders, we recommend the following additional qualifications for Environmental Professionals and will explain how you can recognize these traits while searching for a professional:
Experience with the current ASTM standard
Experience with similar properties
Remediation experience
Professional Liability Insurance
Responsiveness
Experience with the current ASTM standard
ASTM International is a not-for-profit organization that provides a forum for the development and publication of international voluntary consensus standards for materials, products, systems, and services. Effective December 30, 2013, the EPA issued a rule formally recognizing the ASTM E1527-13 Phase I Environmental Site Assessment Standard as meeting the requirements of AAI under CERCLA. ASTM E1527-13 has become the new industry standard for providing prospective purchasers a method to secure CERCLA liability protections.
Experience with similar properties
Environmental Professionals who are familiar with the historical uses of a property may have knowledge of industrial processes and storage areas and will thus have a better understanding of where to investigate for potential problems. If previous operations may have utilized underground tanks, an Environmental Professional experienced with underground tank cleanups will know to look for signs such as old fill ports, old tank vents, monitoring wells, etc.
Remediation experience
Environmental Professionals with remediation experience will be able to provide buyers and lenders an estimate of potential assessment and remediation costs. There are tremendous purchase negotiation opportunities that can be realized when the purchaser has cleanup cost information.
Professional Liability Insurance
It just makes sense that the environmental firm you trust to conduct an environmental site assessment has professional liability insurance.
Responsiveness
Property transactions often have a relatively short time frame for due diligence. It is important to have an experienced, adaptable Environmental Professional who can efficiently produce a quality ESA within the due diligence timeframe.  
Selecting the Right Company to Provide Your Phase I ESA
The expertise of your Phase I ESA provider is a key part of the due diligence process when purchasing commercial property. CERCLA liability defenses are very valuable, especially since a purchaser or lessee of contaminated property can be liable for environmental cleanup costs even if the leak, spill or release happened decades earlier, without regard to fault or negligence. Prospective purchasers should also evaluate whether their environmental professional should investigate risks outside of the scope of the AAI rule. Selection of an appropriate Phase I ESA provider is essential to a successful transaction.
Here at EMS Environmental, we strive to not only meet the requirement put forth by the AAI rule, but to also exceed the additional qualifications we believe great Phase I ESA providers should have. As part of our promise to our clients, all Phase I ESAs are overseen by professionally-registered Project Managers. Our Project Managers have many years of experience successfully resolving complex environmental issues and use this experience to help our clients meet their due diligence objectives.
Contact us for information about how we can help you with your Phase I ESA needs!





For more information about Phase I Environmental Site Assessments, please read these articles:
What is a Phase I Environmental Site Assessment?
How Much Does a Phase I Environmental Site Assessment Cost?
Is a Phase I ESA Necessary for Every Commercial Property Purchase?