Making a claim for leaking UST cleanup costs in Pennsylvania
You just detected a leaking underground storage tank. Do you know how to m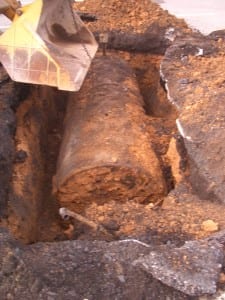 ake a claim to cover the cleanup costs? We have helped our clients put together over 100 claim packages for Pennsylvania leaking underground storage tank cleanup costs and will use our experience to help you compile the correct information to make a successful claim.

So, you notified the Pennsylvania Department of Environmental Protection (PADEP) hotline and reported the leak (as required by law). Now you have a letter from the PADEP that says you must undertake extensive environmental assessment and remediation activities. What's next?
Fortunately, if you have a release from an underground storage tank in Pennsylvania, there is a program called the Underground Storage Tank Indemnification Fund (USTIF). The fund will pay all "reasonable" cleanup costs up to $1.5 million with a $5,000 deductible. However, there are a few steps you have to take in order to be eligible. If you get these steps wrong, you may not receive full funding for your claim.
We will take you through the following steps:
Ensure the release was reported to the PADEP spill hotline within 24 hours of confirming the release.

Present a written notification to the PADEP within 15 days of the release. 

Call in a claim to USTIF within 60 days of the release. 

Provide information in response to the follow up letter from USTIF.
Information Required by USTIF to Process a Claim for Pennsylvania Leaking Underground Storage Tank Cleanup Costs
USTIF will ask for some general details about when and how the spill happened, if any investigation/remediation was conducted, and if you think there may be third party damages. They don't ask a lot; most of the details they require come from answering a follow-up call from an adjuster and from an information request letter.
The USTIF Information Request Letter will look a bit like this:
In order to support the claim you have filed with the Pennsylvania Underground Storage Tank Indemnification Fund, please provide the data/information requested below:
Type

of

facility (i.e. retail

gasoline sales with convenience store

,

retail

sales with

repair

service

,

etc.)

Number

of underground

tanks

,

their

size

,

contents

,

age

,

material

of construction of

the tanks

and

lines

at

the time

of

the release

(i.e. bare steel

,

asphalt-coated steel

,

fiberglass). Type

of

lines

(pressurized or

s

uction)

,

presence of

leak

detectors

,

spill and overfill protection. Also

,

are

the

tanks all

in the

same

tank

pit?

A history

of

repairs

and

upgrades to tanks

and

lines.

Indication

of when

the release

or potential release was

first

suspected and

how the

problem 

manifested itself

.

Please indicate the

date

the release

was confirmed.

The name

,

address and phone

numbers

of

the

person who discovered

the

release/problem and any witnesses

to the

event.

The

cause (source) of

the

suspected or confirmed

release

and

the time frame

of

the release. Be

exact

.

Which

tank

and/or

line

was

inv

o

lved? Estimated

product

lost.

When did release begin?

Provide

action(s)

taken to investigate

and/or abate

the release.

Was

the

DEP

called and did

they

respond

to the

site?

Please indicate

who came out, when

,

and any

instructions received. Name

,

address

,

telephone number, 

and contact of your consulting

firm.

Please indicate remedial

activities to date.

Further indicate if

groundwater was

impacted

and amount (if any) of soil removed.

Provide

costs

incurred to

date and

future

anticipated costs.

If tanks

were removed

,

the

cost of such

including

disposal.

Any prior

history

of site contamination.

Please

also

indicate type

of

heating utilized for

building(s) at

this

site.

Indicate any damages to third parties and, if applicable, include name, address and type of damage. Is the site served by its own well water?

Please indicate the procedures performed to comply with regulations concerning leak detection.

Please supply name, title, and telephone number of person performing stick readings, procedures for tank sticking, product deliveries, and checking for water in the tank. Please indicate if water was ever found in the tanks.

Please indicate the status of your tank permit. Has it ever been revoked? And if so, why?

Is there any other pollution insurance in effect for your facility that would provide pollution coverage for this release? If so, please provide the name of your insurance company, their address and phone number, and your policy number.

The following documents must be submitted:
Copies of any analytical data, well logs, site maps, closure reports, site assessments, etc. performed at this site currently or in the past.

Daily tank inventories/tank gauging figures and monthly reconciliations for the involved tank/lines for the six month period preceding the discovery of contamination.

Proof of payment of the USTIF fees, including the throughput fees. An invoice, from around the time of the discovery of contamination, for gas delivery showing the USTIF fee and the canceled check covering payment of that invoice are sufficient proof of payment of the throughput fees.

Any tank and line tightness tests.

Latest DEP registration certificate for the involved tanks.
Cleanup costs to comply with PADEP regulations can be astronomical. By putting together a good claim package, your liability may be limited to the $5,000 deductible. If EMS Environmental performs the environmental assessment and cleanup, we accept payment directly from USTIF for all covered costs.
For more information on USTIF, explore their FAQ page.